Home » News » Local News » Four Now In El Dorado Jail For Sheriff Killing!
By BStigers on November 1, 2019.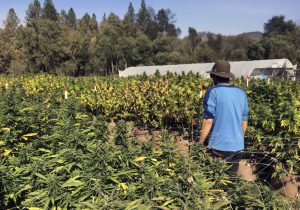 A fourth person has been arrested and charged in the pot farm event in EL Dorado County last Wednesday, October 23, that resulted in the killing of a county sheriff detective. Deputy Brian Ishmael was responding to a 911 call placed by the farm owner Christopher Ross, who has been charged with murder by officials after it was discovered he lied to 911 dispatchers claiming his marijuana grow was being robbed when there was a business dispute between him and two Mexican Nationals who leased property and oversaw the grow. All three have been charged in the case and are in El Dorado County Jail. The new arrest involves Jorge Lamas of Yuba City, an American Citizen who has spent much of his time living in Mexico, being charged in a criminal complaint filed in federal court in Sacramento with conspiracy to manufacture, manufacturing at least 50 marijuana plants and possession of a firearm in furtherance of a drug trafficking offense. The firearm charge is based on the 9 mm handgun found at the scene and believed to be the weapon that killed Deputy Ishmael and wounded another deputy who was with Ishmael. Documents state Lamas was being paid by a person in Mexico, 150 dollars per day about 55 thousand a year, to oversee small pot grows at the Sand Ridge Road pot farm, and other grows in separate pot farms in Georgetown and Somerset. Law enforcement says that since the legalization of pot in California, the Mexican Cartel has changed their model in the US from large illegal grows on isolated Federal Land to smaller pot farms on privately owned land. US Drug enforcement officials said Lamas admitted to participating in a marijuana cultivation conspiracy run by cartels from Mexico.