Home » News » Local News » Paradise Home Owners Told To Vacate Again!
By BStigers on February 6, 2019.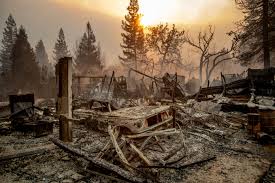 BUTTE COUNTY AND PARADISE OFFICIALS MET YESTERDAY AND MADE DECISIONS THAT WILL FORCE OWNERS OF BURNED OUT PROPERTY FROM THE WILD CAMPFIRE LAST YEAR TO LEAVE THEIR PROPERTY UNTIL PROPER CLEAN UP PROCEDURES ARE ENACTED. THE POLITICIANS ARE REACTING TO FEMA INFORMING THEM THEY WOULD NOT REIMBURSE THE STATE FOR CLEANUP IF PARCELS ARE DEEMED SAFE FOR HABITATION. IN OTHER WORDS, IF THE LOCAL OFFICIALS LET OWNERS RE-INHABIT THEIR PROPERTIES WHILE RESTORATION IS TAKING PLACE, THE PARCELS HAVE BEEN RE-DESIGNATED TO BE HABITABLE AND FEMA WILL NOT PAY FOR CLEARANCE. ANGRY RESIDENTS, ACTING ON THE PERMISSION GIVEN BY THE LOCAL POLITICAL OFFICIALS, PURCHASED MOBILE HOMES AND MOVED ONTO THE PROPERTY AND STARTED TO REBUILD THEIR HOMES, WILL NOW HAVE TO LEAVE, AGAIN. THESE RESIDENTS ARE FACED AGAIN WITH WHERE TO GO, SINCE MOST SHELTERS ARE BEING CLOSED. FEMA IN THE MEANTIME SAYS THEY ARE RESPONSIBLE TO BE SURE CERTAIN PROTOCOLS ARE FOLLOWED. FEMA APPROVES THE DEBRIS REMOVAL, SAYING THEY ARE THE STEWARDS OF FEDERAL DOLLARS.  THE FEMA GOVERNMENT CLEANUP IS BILLED AS A NO-COST TO HOMEOWNERS AND IS EXPECTED TO TAKE A YEAR.