Home » News » Local News » Auburn Fire To Hire 7!
By BStigers on June 14, 2019.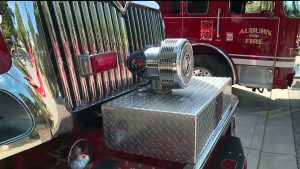 The city of Auburn is increasing its firefighter staff by 50 % and re-opening the South City Maidu fire station. The Auburn City Council voted Monday night to increase the city fire fighter staff from 14 to 21 at a cost of 681 thousand dollars which is a one-year funding. The Fire Chief and the city administration is charged with finding grant monies and other revenue sources to turn the positions into full time positions. The time to implement these changes will be about 60 days. All this increased attention to fire prevention is a result of the city reacting to the overall city and state concern present in coping with conditions that parallel what was seen three years ago in Napa Valley, Santa Rosa, then Reading and finally Paradise and surrounding communities that were wiped out with wild fire activity including killing 85 persons. The city of Auburn is considered a high risk area because of the American River canyons that have fuel and in the wind tunnel effect that can create a perfect "perfect storm" condition for wildfire. There is a lot of activity with the cities and counties to approach the cause of wildfires rather than fighting fires, which is a welcome change in the emphasis of local and state wide fire officials.