Home » KAHI Hosts
Barry Stigers
KAHI Morning News 
with Barry Stigers and the KAHI News Team 
Weekdays 6am – 9am
Barry Stigers started his radio career in 1956 as the AM news host in his hometown of Kane, Pennsylvania.  Barry was program director of a 4 station chain in New York State, then morning news host in a suburban Pittsburgh radio station, and later program director at an ABC network affiliate in New England.
Barry worked in television broadcast news in suburban Philadelphia before coming to KAHI Radio in the late 1990's. Barry  was initially the station's afternoon news host and later — for eight years — as morning news host. KAHI Radio recently welcomed Barry's return to his role as morning news host. 
Mary Jane Popp
KAHI Noon News 
Weekdays 12pm-1pm
Poppoff with Mary Jane Popp
Weeknights 6 – 7pm and 11pm- Midnight
Mary Jane Popp hosts The KAHI Noon News and Poppoff with Mary Jane Popp. Poppoff is a fast-paced Magazine Radio Show dedicated to keeping you on the cutting edge of today's hot button issues. Poppoff says what it does and does what it says. It's energetic, upbeat, entertaining and motivational. From the inner to the outer self, Poppoff takes you to a new dimension in Radio
Casey Freelove
KAHI Afternoon News
High School Sports Play-By-Play
hosted by Casey Freelove
Weekdays 4 – 6pm and  Thursdays 7 – 8pm
Tune in for the KAHI Afternoon News with Casey Freelove featuring local news, sports, business and weather from 4-6pm.  Originally from Folsom, Casey has spent the past 14 years in broadcasting including stops at KXNT/KSFN Las Vegas, KNUU Las Vegas and KGMZ San Francisco.  Casey has worked as a news reporter, anchor, producer and on air host.  He was the co-host of the popular sports talk shows "Freelove and Olson" and "The Jerry Tarkanian Show" in Las Vegas before relocating to Northern California.  Casey is thrilled to return to the Foothills as a member of the KAHI team brings a fresh perspective to our afternoon news coverage.  Outside of broadcasting Casey also enjoys writing, fitness and traveling to various sporting events around the US.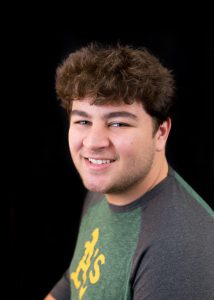 Tarik Ansari
KAHI Swap Shop
Saturday 7am – 8am
Tarik is one of the newest hosts at KAHI, and also the youngest, He is just 19 years old! He loves covering local sports including the 49ers, Kings, A's and Republic FC, but he also is tuning his talents as a DJ for 60's/70's Rock. His work as a play-by-play announcer in high school got him national recognition by NFHS Network, as he placed in the Top 5 Nationally for Broadcasting. Kick off your Saturday morning with Tarik on the KAHI Swap Shop.
Mike Nickels
The Cruisin' Garage & Swap Meet
Sunday 7:30-9:00 a.m.
Mike has a long history in radio on the foothills area and has been with KAHI for a number of years. He produces KAHI's Sunday morning programming and interacts with the folks on The Cruisin' Garage & Swap Meet. Mike is a life long resident of Foresthill.
Connie Watson
KAHI- Corral
Saturday 8:00-9:00 a.m.
Connie Watson works for Echo Valley Ranch in Auburn. She has been working with the agricultural community for many years. She is experienced with livestock care, barns and shelter, fencing, pasture management, planting, gardening, chemicals and fertilizer. Connie is one of four Northern California women to receive the 2015 Common Threads North Award. It was awarded to her for service to agriculture in her community.
Linda Darvishian
The Good Life for Seniors: Reverse Mortgage Show with Linda "D"
Saturday 10am-10:30am
Call Linda at (530) 908-869
This is an informative, fun and educational show inviting audience participation and interesting guests from our community and beyond.
Linda is a successful talk show host in Northern California with over 40 years in the mortgage & real estate industries. She has specialized in exclusively in reverse mortgages for over a decade, helping Seniors change their lives for the better for the rest of their lives.
Linda is a recent recipient of the Business Woman of the Year award from the National Association of Business Women and is available for private appointments with homeowners to discuss and explore the reverse mortgage program, and is also available free of charge as a guest speaker at offices, clubs and organizations.
Candace Roeder

A Time for Seniors
with Candace Roeder
Saturday 6am-7am
Hosted by Candace Roeder. Each week Candace has guests discussing subjects of concern to seniors living in the Foothills. Her goal is to maintain a radio show that draws a closer connection between the foothills and the senior community.
Some of the subjects that Candace has covered:
Senior abuse by non-caregivers
Dangers in shopping center parking lots
Telemarketing fraud scams
Finding work after 50
Adult Daycare & Wellness Centers
Health Insurance Counseling
Transportation where public transit is not available or appropriate
Nutrition & your health
Every week, a new subject of interest to seniors!
Jerry Henry

General Manager
Jerry Henry is a US Air Force Veteran and graduate of California State University. He wears many different hats at KAHI including President and General Manager. He does production and fill in work wherever needed. Jerry started working for KAHI in August 1995.