Home » News » Local News » AFSCM Union On Strike At UC Davis Today!
By BStigers on November 13, 2019.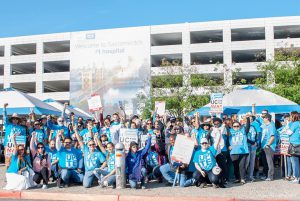 Twenty-Five thousand University of California workers are scheduled to strike today at the Sacramento, UC Davis Medical Center on Stockton Blvd, and UC campuses throughout the state. Other major strike sites include UC San Francisco's Helen Diller Medical Center, 505 Parnassasus Ave.; UC Santa Cruz, 1156 High St.; and UC Berkeley, 2495 Bancroft Way. The Union is the local chapter of the American Federation of State, County and Municipal Employees which is the largest trade union of public employees in the United States. The state requires a specified number of employees report to meet emergency-care needs at the UC Davis Hospitals. Hospital administrators report that scheduled appointments and surgeries will proceed, and patients and employees will receive meals, even though, the cafeteria will be closed. The Union unrest is focused on the UC Davis administration's use of contract labor which the Union says is illegal under the current contracts. US Davis officials say the union is spreading false information. Commuters can expect traffic delays around all UC Davis facilities while the strike continues until at least 4 p.m. today.