Home » News » Local News » Another Hotel Project In West Sac!
By BStigers on August 8, 2019.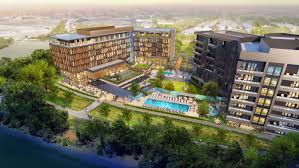 In the BEE this morning: Two of Sacramento's noted families are proposing an urban resort on the banks of the Sacramento River just north of Tower Bridge in West Sacramento featuring a Boutique Hotel and residential units with panoramic views of the river and downtown. The project is a joint venture of the Raley and Teel families, which headquarter their supermarket chain in West Sacramento, and Fulcrum Property, run by Mark Friedman of the family that owns Arden Fair Mall. The development group plans to build a 193-room hotel and 57 residential units in mid-rise towers on a five-acre spot known as Raley's Landing. The site sits next to the levee directly across the river from Old Sacramento and affords residents and hotel patrons a short walk over Tower Bridge into downtown Sacramento. The project must undergo a design review by the city of West Sacramento before developers can obtain a building permit.