Home » News » Local News » Christmas Is In The Air!
By BStigers on November 1, 2019.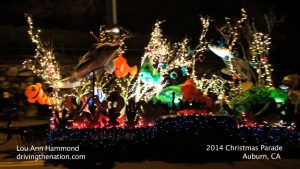 The Old Sacramento waterfront Christmas tree is to be delivered on November 4th and placed on K Street between Front and 2nd.  The 62-foot tree is scheduled to have the official lighting ceremony November 27th. The City of Auburn's yearly Festival of Lights parade is scheduled, rain of shine, Saturday December 7th starting at 5:30 p.m. This year's theme is: "Christmas in Auburn". Staging will be on Lincoln Way and Borland Ave. The Parade route will flow from this area to the Gold Country Fairground's upper parking lot where is will disband.