Home » News » Local News » FBI Enters Fire Investigation at Santa Cruz
By BStigers on September 11, 2019.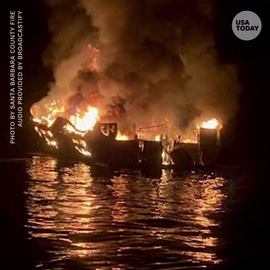 The dive boat fire disaster off the coast of Santa Cruz that killed 34 souls has turned toward a criminal case probe with the entrance of the FBI who only engages if there is a possibility of a criminal act. The coast Guard has been spearheading the investigation that started in the early hours of September 2nd, as 34 were sleeping below deck on a 75-foot dive boat waiting to have a weekend excursion of diving and fun with paid passengers.  An unknown fire broke out apparently below deck, paralyzed the 34 passengers with smoke inhalation, then burned all as the boat burned and sank in 60 feet of water near the shore. All but one of the passengers has been recovered. Wind conditions, and unsettled waters have restricted the crews from getting to the ocean bottom and retrieving the last of the 34 bodies burned in this tragedy.  Federal agents raided the boat owners company office in Santa Barbra to secure records of maintenance and other practices of the company, Truth Aquatics, Inc. There are several unanswered questions, like was there a crew member awake and on duty over night for protection of the passengers, was the Captain responsible during the incident, was the boat properly outfitted with fire prevention equipment, was the crew properly trained to handle this disaster.