Home » News » Local News » Highway 65/I-80 Update!
By BStigers on March 12, 2019.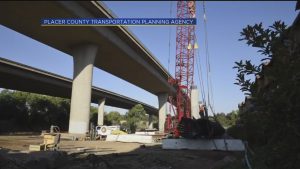 Highway construction update, Taylor Road (Placer County) at the State Route 65 viaduct: Motorists can expect one-way traffic control on Taylor Road from 10 p.m. Monday to 7 a.m. Tuesday for concrete work. If weather forces cancellation of Monday's overnight work, the contractor plans to perform the concrete work later in the week.
Crews continue to work on the new bridge deck that will serve as a third lane of the northbound Highway 65 viaduct. The final deck section left for concrete work is over Taylor Road. Once the Taylor Road work is completed, crews will be performing minor concrete work, including construction of the pour for the barrier rail. Motorists can expect some intermittent lane closures. The work schedule will depend on the weather.
Taylor Road: Because of inclement weather, the contractor canceled this week's plan to pour concrete on the new deck section over Taylor Road, The work is scheduled for next week and will require one-way traffic control during the operation. The schedule could change due to weather.