Home » News » Local News » PG&E CEO Bill Johnson Speaks, everyone mad!
By BStigers on November 7, 2019.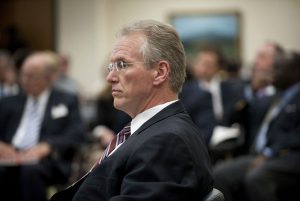 PG&E continues to dominate the news. CEO Bill Johnson is being highly criticized at some of his public statements about the handling of the blackouts that occurred four times in October. Friday, he said to struggling California people they still have their houses because of the blackouts. This has sparked outrage as people look at restoring damage as some homes were damaged and even set on fire as the power came back on in some areas with a surge. An ABC7 reporter had asked Johnson on Friday what he would tell low-income families who are being forced to clear out and restock their refrigerators because of the power outages. Johnson responded by saying that "the main thing is, we didn't cause any fires" or "burn down any houses." "The Kincade Fire is still under investigation — I got that — but one of the things we did was give them the opportunity to actually refill their refrigerator cause their house is still there". Reports are the Kincade Fire has destroyed 174 homes and is still burning. PG&E disclosed that this fire was result of their high power system failure. Another statement Johnson made was "people that can't afford to restock their spoiled food should go to food banks", again sparking rage from the general public. Several legislators are pressing to pass legislation that would force the Utility company to reimburse customers for loss when fire or blackouts cause losses. Gov. Newsom reported that he was holding meetings over the weekend with financial advisors on a state government take over of the utility. The Gov also met with PG&E officials on Tuesday morning to discuss the speedy process to settle bankruptcy proceedings that are ongoing in Federal Court in San Francisco. PG&E officials said they support the Governor's desire to speed up the bankruptcy process.  In the meantime, there are several Cities and Counties that are looking at becoming their own power generating entities including suggesting to the bankruptcy court to force PG&E to sell their distribution systems or become a customer owned utility.