Home » News » Local News » Placer County Sheriff's Go Drone!
By BStigers on July 10, 2019.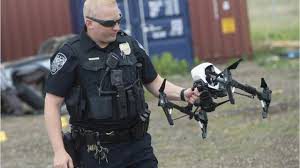 Placer county Sheriff's have gone high tech with a drone or as they label it an Unmanned Aerial System (UAS) that is designed to give deputies an aerial look at anything they need to see to assist them in doing their assigned duties. The UAS program will NOT be utilized to film or conduct random surveillance of the public. This resource is intended to increase deputies' and the public's safety. The Unmanned drone is becoming more and more a tool of fire, police and rescue because is can be flown into situations that a human cannot go, has cameras and recording available to see with heat sensors or ultra violet sensors so it can work in smoke, darkness, and give ground crews a look at what they must deal with before going into a situation. These drones also can provide a mapping technology that will sense movement on the ground to assist officers.