Home » News » Local News » Sacramento Man Drowns After Raft Flips On American River!
By BStigers on May 8, 2019.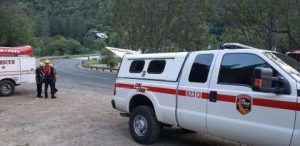 Placer County Sheriff  searchers found the body of 56-year old David Wayne Johnson of Sacramento, downstream in the American river Sunday. He was lost on Saturday when the raft he was in flipped over in the cold and swift waters near Colfax. A woman also in the raft was rescued by emergency personnel using the CHP helicopter and the CalFire rescue swimmers after they found her in the water downstream about a half mile from where she entered the water.  A third person reached shore, climbed a cliff and made an emergency call. None of the three were wearing lift jackets. The search for Johnson was halted Saturday night when darkness fell. His body was found Sunday in the upper Lake Clementine area of the river.