Home » News » Local News » Three rescued by First Responders On Folsom Lake!
By BStigers on August 27, 2019.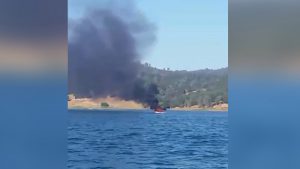 A boat fire sent two passengers to a local hospital on Friday afternoon on Folsom Lake. The South Placer Fire District said the fire was reported around 4:45 p.m. Friday. Firefighters were shuttled to the fire on a private boat with a portable pump, hose and tools. State Parks and El Dorado County Sheriff's boats assisted with the rescue of three occupants on the burning boat. Fire is under investigation.