Home » News » Local News » Trailer On Fire Full Of Pigs on I-80!
By BStigers on May 14, 2019.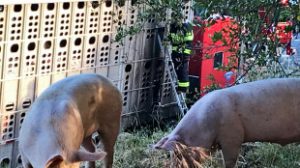 Portions of I 80 Westbound near the Ophir Road exit were closed yesterday evening when a truck pulling a livestock trailer with about 200 pigs blew a tire, and as the driver pulled the rig off the highway another tire blew and set the rig on fire. The 200 pigs were released but some had burns bad enough that about 8 were euthanized because of sever burns. CHP reported pigs and some cattle were loose on the highway. All but one lane was opened by 8:30 and all lanes were open by 9:00 pm.