Home » News » Local News » Vile Thrown In Senate Tests Real Human Blood!
By BStigers on October 4, 2019.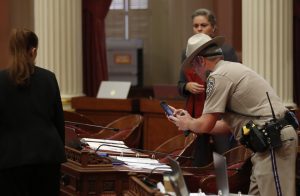 State officials confirmed yesterday that the vile of red liquid that was thrown by 43-year-old Rebecca Lee Dalelio from the balcony of the state senate chambers on September 13th was human blood, but it was negative for any blood borne pathogens or infections.  Dalelio, a resident of Boulder Creek, a community in the hills North of Santa Cruz, was protesting the hearings on senate bills that would restrict California doctors from issuing medical exemptions for vaccinations that are required for children that attend schools. Dalelio yelled "that's for the dead babies" at the legislatures as she threw the vile to the floor below which caused an evacuation of the chambers for three hours before resuming the session which was on the last day of this year's session. She has a long record of protesting the required vaccinations in California. The law was signed this week by Gov. Newsom.