Home » News » Local News » Winter Storm Coming For Thanksgiving! Travel Warnings!
By BStigers on November 26, 2019.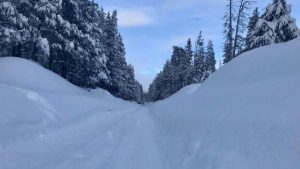 The US Weather Service is advising a winter Storm Warning starting tomorrow for Nevada, Placer, Yuba and El Dorado Counties this week. Heavy snow is expected at higher levels. Travel will be very difficult to impossible. Tree branches could fall as well. Total snow accumulations of 2 to 3 feet, with localized amounts up to 4 feet at higher elevations, are expected. A strong, unseasonably cold weather system is expected to bring the first significant winter storm of the season to Northern California, impacting the area Tuesday through Thanksgiving. Hazardous travel conditions with major travel impacts are expected over all NorCal mountain passes with this system, especially impacting holiday travel Tuesday night into Wednesday. Temperatures will also be colder than normal beginning Tuesday and continuing through the week. PG&E is not reporting any power outages this week even though we have high winds forecast.