Home » News » Local News » New Gas Station In Town!
By BStigers on March 13, 2021.
The Gasol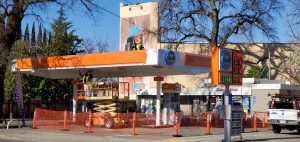 ine station located at 1110 High Street located with the Auburn Food and Gas is being changed today to become a GULF gasoline outlet. The Auburn Market will continue to exist under local ownership, but the Gas Station will change to GULF. Gulf had a major presence in California but merged with Standard oil and both changed their name to Chevron and signed a non-compete for several years which now has expired. The Auburn Station is one of many that will now be purchased and pump gasoline under the name of GULF. The opening price for regular will be 3.57 for regular if paid by cash, 3.67 for credit purchase.